European Mixed Teams Championship: England taste defeat in semi-finals Sport-rated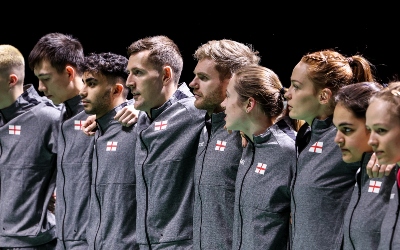 February 20, 2023
England's campaign in the European Mixed Teams Championship came to a close on Friday with a semi-final loss to Denmark, after winning two of three group games earlier in the week.
On Tuesday, England's campaign at Aire-sur-la-Lys began with a 4-1 'Battle of Britain' victory over Scotland in the first group stage match.
Marcus Ellis and Lauren Smith opened the tie with a straight-game victory over Adam Hall and Julie MacPherson, in Ellis's first match since last summer.
That was followed by a men's singles victory for Johnnie Torjussen over James Robertson, before Kirsty Gilmour gave Scotland a boost with a women's singles victory over Abigail Holden.
However, Ben Lane and Sean Vendy followed up with victory in a three-game battle against Alexander Dunn and Hall in the men's doubles to seal the tie, before Chloe Birch and Smith also prevailed in a women's doubles match over MacPherson and Ciara Torrance.
Progression to the semi-final was sealed on Wednesday, with England posting another 4-1 win over Ukraine in their second tie of the tournament.
The action began with Holden suffering a narrow loss to Polina Buhrova, before Torjussen leveled proceedings with a straight game win over Oleksandr Shmundyak.
Birch and Smith then put England ahead with a comfortable win over Mariia Stoliarenko and Yelyzaveta Zharka, before Lane and Vendy sealed the progression by beating Glib Beketov and Ivan Druzchenko.
And Ellis and Smith notched a fourth win with a win over Viacheslav Yakovlev and Polina Tkach.
With a quarter-final spot already secured, England decided to shake up the players competing for their final group game against Denmark, who had already secured a semi-final spot.
Harry Huang entered for the men's singles and tasted defeat to Anders Antonsen, though he was still impressed against the former world number 2.
Freya Patel-Redfearn then tasted defeat in a close battle against Line Kjærsfeldt, before Rasmus Kjær and Frederik Søgaard sealed victory for the Danes with a men's doubles win over Callum Hemming and Ethan van Leeuwen.
Maiken Fruergaard and Sara Thygesen then beat Birch and Smith in the women's doubles, before Gregory Mairs and Jenny Moore sealed a mixed doubles victory for England over Mathias Thyrri and Amalie Magelund.
England then faced Denmark again in the semi-final, with Germany drawn against France.
Patel-Redfearn was England's first and tasted defeat in the opener, falling 21-5 21-15 to Line Christopherson as the Danes took a 1-0 lead.
The defending champions won 2-0 after the men's singles final, with World No. 1 Viktor Axelsen sealing a 21-12 21-8 win over a struggling Torjussen side.
And victory was sealed after the women's doubles match, Sara Thygesen and Maiken Fruergaard defeated Birch and Smith 21-18 21-15 to secure a 3-0 victory.
All eyes will now be on the build-up to the YONEX All England Badminton Championships in Birmingham, which kicks off in just over three weeks.