YONEX All England Diaries: Ben Lane at home on the big stage Sport-rated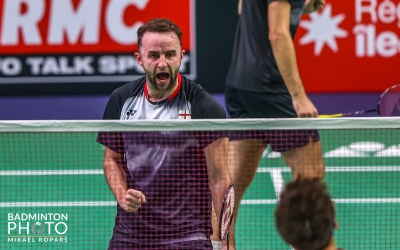 Ben Lane knows better than anyone about the value of experience.
The 25-year-old and his doubles partner Sean Vendy are no strangers to the YONEX All England Open, and 2023 will mark his fourth consecutive main event appearance in Birmingham.
The 2022 edition saw the duo claim a first All England special victory, but they suffered a painful second round loss to third seeds Takuro Hoki and Yugo Kobayashi, in which they led 19-15 in the decider.
But while many would not have been able to recover from such a loss, it instead propelled Lane and Vendy into the best form of their careers, reaching an all-time high of 13th in the world rankings and beating several of the world's top couples, plus of winning Commonwealth silver in Birmingham. .
"After every tournament we sit down and reflect after a few days," Lane said.
"Last year was a great year for us and you always learn a lot by losing, and it hurts to lose in one of the most important tournaments of the year, but I hope that loss has given us valuable experience for this year and the next tournament.
"We had a great last six months in 2022. We really feel like our games have gotten a lot better in the last few years, but I think that's down to the work we put in every day, if you put the work in every day the results will follow."
Years of playing together and overcoming the ups and downs of professional sports have seen the duo develop a strong bond, something Lane believes is key.
He added: "We are great friends off the pitch and we set very similar goals and ambitions, which is great in a partnership, because we are both working towards the same thing.
"I think in terms of a doubles partnership it's one of the most important things, to have a good partnership dynamic, especially when it gets tough.
"Emotions run high during matches and when you are fighting in stressful situations, you really need a partner by your side that you can trust, and we both trust each other.
"We've been through so much throughout our careers together on and off the pitch that it's probably one of our greatest strengths: when the going gets tough, we can stick together."
Lane and Vendy will be looking to put all their knowledge to good use when the YONEX All England kicks off in two weeks, having had a difficult first round draw.
Chinese fifth seeds Liu Yu Chen and Ou Xuan will be their opening opponents, and a strong performance is likely to be needed for the two to progress.
However, that's not something that falters for Lane, who was always prepared to fight hard when the tournament began.
"The men's doubles tour right now is filled with so many good pairs that there is never an easy game," Lane said. "We just have to focus on our game and what works well for us.
"Especially in the lead up to big events, we'll be working hard to fine-tune and where we think our best game is, we'll just work on that extra one or two percent that can make a difference in the game. end.
"Going into the event, we obviously want to do our best, and we know that if we do our best, we can challenge anyone and we can fight for titles. We proved that last year by reaching the final of the Commonwealth Games, reaching the semi-final of the French Open.
"When we play well we can beat any couple. We don't necessarily have goals for what round we want to get to, we just want to try to do our best and hopefully that will take us deep into the tournament."